You are here

Kris Persinger and Persinger Planning Provide Independent, Wealth Management in Washington, DC — and Beyond
Kris Persinger and Persinger Planning Provide Independent, Wealth Management in Washington, DC — and Beyond
Kris Is Not Just a Washington DC Financial Planner But a Certified Financial Planner™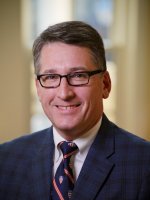 Kris Persinger is the founder and president of Persinger Planning. Kris established Persinger Planning on July 4th, 2008 –Independence Day! His goal in setting up an independent financial planning practice was to provide intelligent, independent advice to his clients.
One of Kris's best qualities is his ability to break down complicated investment concepts in a way that non-geeks can understand! For this reason, he is often asked to make television appearances. Kris has discussed investments on the stations above and more.
A veteran of the financial world, Kris entered the field in 1987. Since then, he has helped hundreds of people with millions of dollars worth of investments. During his career, Kris has managed people's investments at a large bank, a boutique brokerage and a respected insurance company. Because he's seen the financial landscape from multiple angles, Kris feels he can offer the best of all worlds to his clients.
Kris is proud to be a Certified Financial Planner™ Professional. Lots of people give financial advice. Only a fraction of them are CFP® Professionals. The CFP® designation requires a rigorous initial year of study and 15 hours of continuing education every year thereafter. Kris relishes the "homework" because he considers himself a student of investing, always hungry for more knowledge.
Kris earned his Bachelor of Science degree in Business from Wake Forest University in Winston-Salem, North Carolina. Since "the Demon Deacons" have a storied basketball tradition, he is a rabid college basketball fan.
Kris loves to travel and has been to every continent except Africa, where he hopes to go next, and Antarctica, which he may skip! Thanks to his travels, Kris was inspired to learn to cook and appreciate the wines of the world. Prepare yourself, because client meetings could include Vietnamese, Moroccan or French food prepared by "Chef Kris."
Kris grew up in Ohio and Florida and now lives in Washington, DC with his wife, Elisabeth, and daughter, Kelsea.